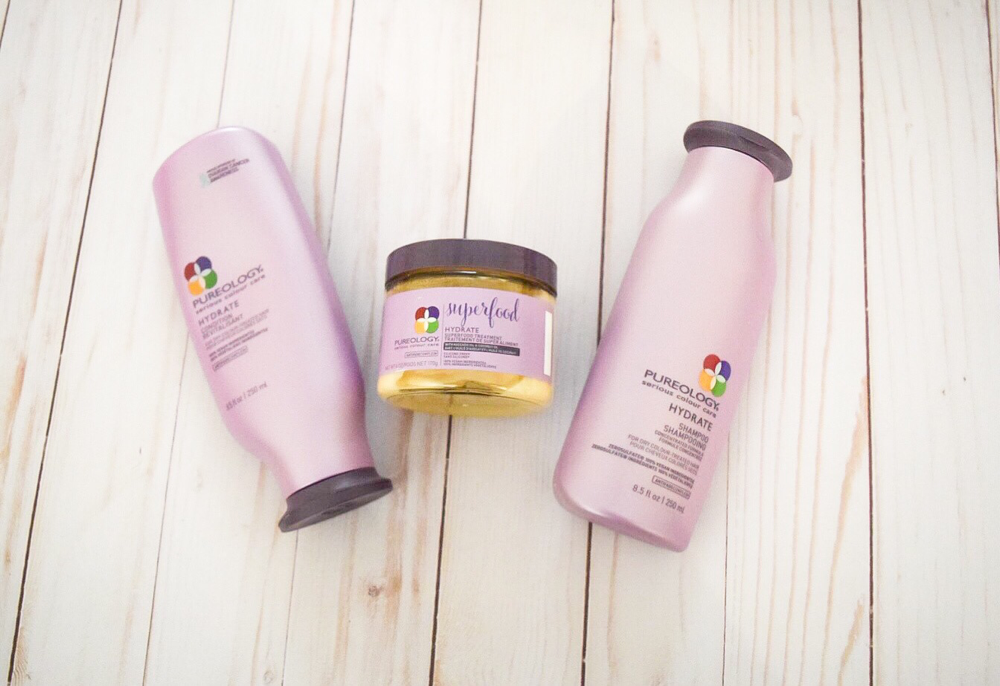 It's the first of November and it marks the official start of the Holidays.  Do you also know what day it is today?  It's World Vegan Day!  I'm not a vegan myself, but I do contemplate it a lot as I am getting older.  I am health conscious and like to live a life that leaves a low carbon footprint for the environment.  When it comes to beauty, I'm very mindful of using products that are free of toxic products.  I've been using Pureology since I've been a hairstylist and continue to recommend it to friends and clients.  
Pureology creates hair products that address hair concerns ranging from hydration, volumizing and smoothness.  All the goodness you want minus the "nasties", like sulphate.  The formulas are super concentrated and deliver aromatherapy fragrances. My personal favorites are from their Hydration collection as I chemically treat my hair every 3-4 weeks.  
Hydrate Shampoo & Conditioner

You can't go wrong with investing in the Hydrate Shampoo and Conditioner as a little goes a long way.  You may be shy to purchase it at first if comparing against drugstore brands; but you will get more with Pureology.  Here's why...their formulas go a long way because it is concentrated so you'll only need to use a quarter size.  Your scalp and locks will thank you for it!  Right off the bat, you'll feel relief from the peppermint, sage and rosemary; it's like a scalp massage in a bottle.  Every time I use it it feels like I'm at the spa as it's infused with aromatherapy fragrance from ylang ylang, bergamot and patchouli.  The Advanced Hydrating Micro-Emulsion technology delivers hydration which makes my hair manageable when it comes time to comb through and style.  My personal deal maker is it has an exclusive Antifade Complex which protects color vibrancy.  You'll feel good knowing it is made with 95% Post Consumer Recycled packaging.  It comes in an 8.5 oz and 33.8 oz size; I personally like the smaller size because it's portable and convenient to throw in the gym bag.  
Hydrate Super Food 
I can't get enough of the super foods as it does a body and mane good.  The Hydrate Super Food Treatment is a must have companion to the shampoo and conditioner.  It has avocado and coconut oil to nourish and hydrate scalp and hair.  It's a mask that can be used as needed to treat dry and over worked hair.  I use it once a week as a deep conditioner; for maximum results, leave it in for 15-20 minutes with hair cap.  The aromatherapy blend is orange, pineapple and leafy green which is very invigorating.  It's available in a 1oz and 6 oz size, making it easier for your preference and lifestyle.
Now is a good time to explore your hair care options; if you're looking to change it up by using environmentally friendly brands like Pureology.  There's new gift sets that bundles up shampoo and conditioner.  If you go to the Pureology site and sign up with your email you can get a 15% off coupon code for first time users.  Shipping is also free for orders over $50.  Ulta is another place to get coupons as you can sign up for rewards and coupons.  They most likely will have Christmas sets in stores soon.  
I am not getting paid to endorse any brands from this post.  As a stylist, I like to spread the word on how to achieve beautiful hair while leaving your wallet happy.  I also like to share on high quality products from brands that are environmentally friendly.  Pureology incorporates 100% vegan formulas and sustainably sourced natural plant extracts minus animal products and by products.  You can feel good and look good from the inside out.
 I'd love to learn more about other Vegan brands.  What are your favorite Vegan hair care brands?