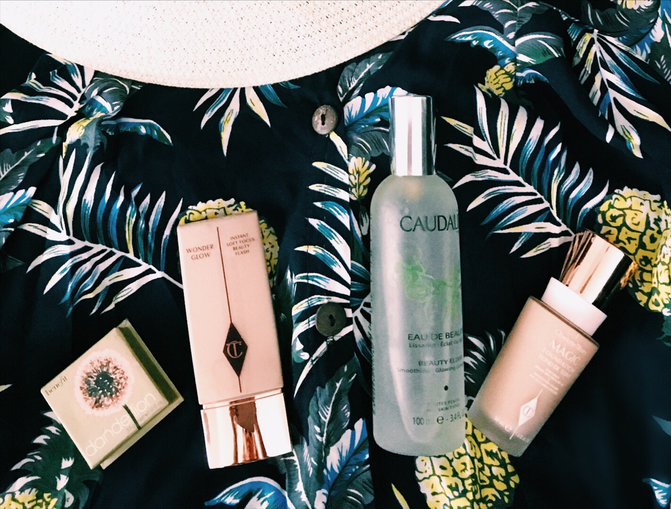 Are you ready for some fun this summer?  Me too, I wait all year for this season and love spending time outdoors. In the summer, I'm all about the sheer, radiant and glowing skin look.  I love to rock the minimalist makeup look as it is effortless and fool proof against the hot temperature outside.  Here are the four products I rely on to get me out the door as quick as possible without the fuss.
The first step to my minimalist makeup routine is to prep my skin with a facial water spray.  My new favorite facial spray is Caudalie's Beauty Elixir Spray.  It not only is a refreshing water spray, but it smooths away lines and tighten pores.  I use this in place of a toner and it helps me minimize one extra product I have to use in the mornings.  
Next, I reach for my primer and foundation from the Charlotte Tilbury line.   Can I just tell you about my love for this makeup line?  Charlotte Tilbury is a genius and one of my favorite celebrity makeup artist.  Her makeup line does not disappoint to say the least.  I absolutely love everything I've tried thus far, especially the Wonder Glow and Magic Foundation.  The  Wonderglow is light reflecting primer with anti-aging benefits.  It has Anti-aging Bio-Nymph Peptide Complex to stimulate collagen and promote elasticity.  You can use this primer prior to foundation, or skip the foundation and wear it alone for a dewy look. 
Then, I layer on the Magic Foundation which is a full coverage foundation with SPF 15.   Although it is a full foundation, I sheer it out by using a beauty blender.  I spray it with the Caudalie Beauty Elixir then dab the foundation on top and start blending from the center of the face outwards.  
After my skin is prepped and canvas set, I reach for my Benefit blush in Dandelion.  It's a pale pink blush suitable for fair to medium complexions as it is very subtle.  It's the perfect blush to use alone for the minimal look as it is not shimmery and packed with glitter found in highlighters.  It's nicely pigmented and lasts through out the day, perfect for when you're on the go.
Have you tried any of these products?  Leave a comment below on some of your favorite summer makeup.