It's unofficially Summer, and your social calendar is booking up really fast with happy hour, beach days and pool parties. You can't be bothered with dull looking skin or uneven makeup at the end of the day.  You need your makeup game to be on point when you step out the door.  Here's a list of facial mists that will help set, lock in your makeup and get your glow on this summer.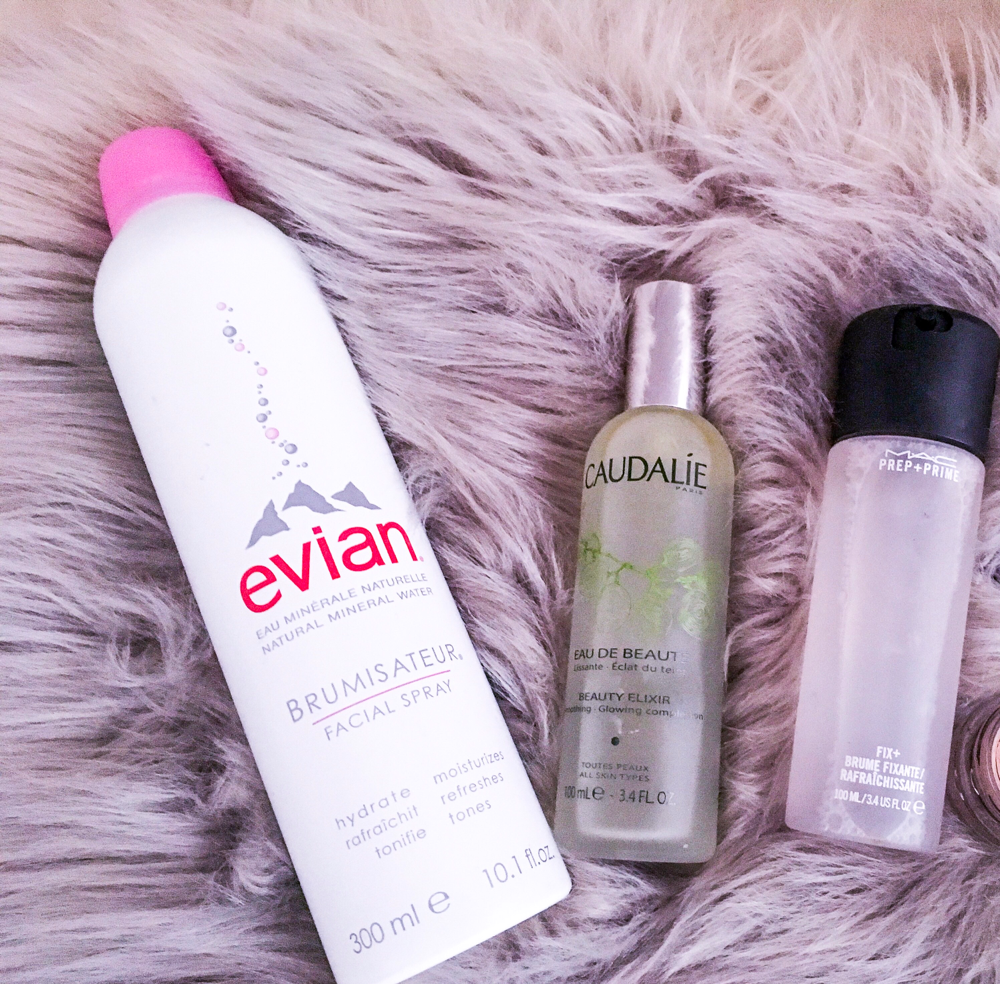 Evian Facial Spray:  You might be saying, yeah it's water in a can but wait til you try it.  For me, it's my way to feel pampered in the morning.  I spritz a little Evian Facial Spray on my face and it feels like a quick mini-facial. The mist is ultra-fine and very gentle, leaving my skin hydrated and refreshed.  I wait a second and pat my skin dry, then proceed with sunblock and moisturizer.  It can be used to apply makeup and as a setting spray.  For an afternoon makeup refresh, simply spray on top of your skin and say hello to your dewy skin.  Quick tip: to create that summer glow that lasts all day, spray your face brush then dip in your highlighter.
Caudalie Beauty Elixier
I purchased the Caudalie Beauty Elixir during the Christmas promotion through Sephora.  I'm completely new to using this line and loving it so far.  I needed a setting spray and saw that this beauty elixir not only helps set my makeup but it helps smooth away lines and tighten pores.  It is packed with essential oils and plant extracts which makes the smell oh so soothing.  I use this in place of a toner as it's convenient and easy to just spray.  Quick tip:  keep at the office as a quick pick me up for that afternoon slump.  
MAC Prep and Prime Fix+
MAC's Fix+ is a staple for most makeup artist, whether it be on set or behind the scenes during fashion week.  It's a lightweight water mist infused with minerals and vitamins and a blend of green tea, cucumber and chamomile.  It's versatile as you can use it alone to hydrate or to help with makeup application.  It's great to use with color products to intensify the pigmentation with eyeshadows and especially highlighters.  Quick tip:  for that natural dewey and sheer foundation, apply your favorite powder or foundation and spray all over face.
What are some of your favorite facial sprays?  How do you like to use them?