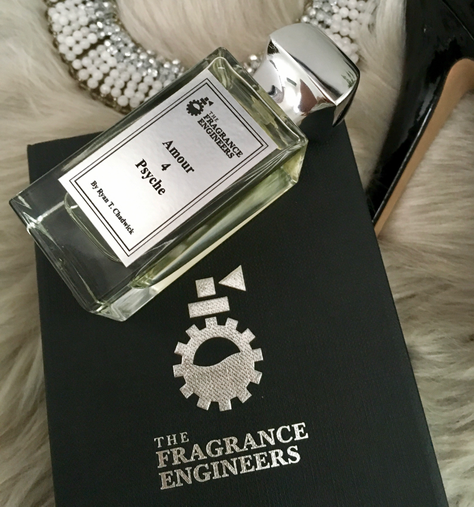 I've been holding on to a secret and finally able to share it with you.  I got a preview of The Fragrance Engineers prior to their launch back in July. Boy was it hard to keep this secret as what I learned was so exciting.  The Fragrance Engineers offer a new concept that fill the void for perfume lovers, niche perfumers and entrepreneurs. Here's a first look at The Fragrance Engineers.
INSPIRATION
I had the pleasure of sitting down with Founder Ryan T. Chadwick to learn about his company.  
Ryan is  a perfumer and trainer, which makes it very easy to talk to him.  His passion shows as he shares information about The Fragrance Engineers.  The Fragrance Engineers inspiration is to guide niche perfumers along as they make their dreams into reality.  They eliminate the headaches associated with the financing, sourcing and production process.  Imagine having the A-Team on your side as you translate your perfect scent into your own brand and company.  
The Fragrance Engineers team members, are seasoned professionals with combined work experience spanning over three decades.  Their expertise in the perfumery world are sought after by clients across multiple consumer categories.    Each team member is unique and offer his own style when it comes to designing. Below are some perfumes created by the Fragrance Engineers team members. I was able to try these perfumes and share my thoughts.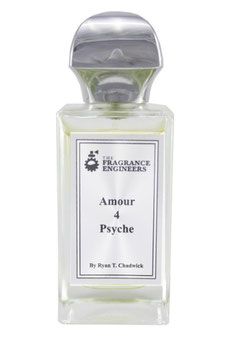 1. AMOUR 4 PSYCHE
I received a full sized perfume called Amour 4 Psyche, designed by Ryan T. Chadwick.  It felt like Christmas as I opened the perfume.  The perfume packaging is very luxurious as it comes in a very fashionable hard bound black box (picture above).  It opens like a book, with the label and ingredient description on the side.  The perfume is securely housed in the right compartment of the box.  The bottle is made of quality glass and the shape is perfect as it fits right into my small hands.  It's perfect to tote along in my mommy bag.  What I love the most about the bottle is the shiny silver cap.  The cap weighs a good amount, making it a good quality metal.  I'm a sucker for shiny objects.
The perfume is infused with rose notes accompanied by a refined wood base.  It opens with a nice citrus note, as the perfume settles the rose note kicks in and followed by a wood trail.  The wood note is personally the highlight of the perfume for me as I tend to shy away from scents that are too sweet and floral.  This perfume is delicately balanced and wears like a veil of floral bouquet as you go about your day.  My personal test, is if my one year old son can bear the scent when I'm wearing it.  If it's too strong, he falls into a sneezing frenzy.  Happy to report, he didn't even sneeze one bit.  This perfume is lovely, a nice floral scent that can be worn for every occasion.  
Notes:  Rose, Cool, Citrus and Wood
2. SEDUCTION
Seduction, the second perfume created by Ryan T. Chadwick is sensual and a perfect play on the warm notes. The perfume opens with bergamot, trails with wood and my personal favorite, vanilla.  It's sexy but yet effortless, just like a strong and confident woman.  An alternative to your daily floral perfume; can be worn in an office environment or power meetings.
Notes: Fruit, Vanilla, Bergamot, Wood
3.  PINK CHAMPAGNE
Pink Champagne, created by The Oracle is a fun, adventurous and flirty perfume.  It's very contemporary, ideal for a young spirited woman always on the go. What more could a girl ask for in a perfume when you have raspberry and pink champagne?  Slip into a fun dress, spritz this perfume on and head out with your girlfriends.
Notes: Raspberries, Vanilla, Floral and Pink Champagne 
4.  DIAPHANOUS
Diaphanous, by Stephen V. Dowthwaite is an ethereal perfume, uplifting and well thought out.  The Aldehydes, is what makes the perfume uplifting and a joyful experience.  Underneath the freshness of the Aldehydes, is the delicious smell of peach, followed by the floral notes.  Ideal scent for a wedding day, spray the veil and watch heads turn as the bride walk the aisle.
Notes: Peach, Tuberose, Crisp Aldehydes and Bulgarian Rose
THE CONCEPT AND PROCESS
The Fragrance Engineers concept bridge the gap for those looking to create their niche perfume and perfume line.   Imagine being able to customize your own perfume line within a matter of months.  Yes, I said months. The Fragrance Engineers, let you enjoy the creative portion of the business, the creation, development and branding. The process starts once the perfumer submits a sample creation and pay a one time set up payment; which includes lab set up, safety assessments and all the adminstrative work.  Once, everything is confirmed and adheres to industry regulations; the fun begins.  
Once your perfume is finished; you are then free to share your master piece with others by sending them to the Fragrance Engineers website.  This eliminates the need to pre-order perfume in advance as you can simply utlize the drop shipment method.  Sales made from the Fragrance Engineers website are shared with the perfumer and distributed monthly.  The perfumer, may also promote on his website, social media or Amazon. 

ENDLESS POSSIBILITIES
The possibilities are endless when you have the Fragrance Engineers by your side.  I've only provided a small snap shot of their capabilities.  For more details, head over to their website, www.thefragranceengineers.com. They're on my radar for ones to watch.