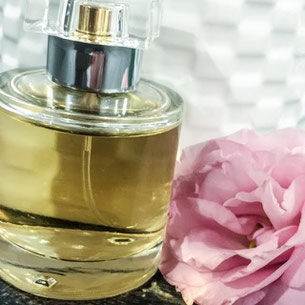 Bronze Goddess, Sensual and Allure, these are some of the fragrances from my perfume collection. In my twenties, my collection was dictated by what advertisers and marketers pushed as the"in" perfume.  As I matured, I developed my own flair and preference; it got harder to shop for perfume.  The perfect perfume for me didn't exist yet.  I decided to learn how to make my own perfume. It couldn't hurt learning something new.  Who knows maybe I'd be successful in creating my own signature perfume.  I enrolled in PerfumersWorld online perfumery course and got the Perfumery Training Kit. Here's what I've learned thus far.
How Perfume is Made
The word perfume derived from the Latin words "per fumen", which means through the smoke. It's been used as personal adornment dating back as early as the Ancient Egyptians. Perfume was made from natural raw materials such as leaves, flowers, herbs and burning wood.  Today, modern perfume is made from essential oils, synthetic chemicals and animal products.  The process of making perfume is similar to music as the ingredients used are described as notes.  All of the notes are blended together to create a masterpiece.  The notes are described as the top, middle and base notes. The top or the head note is the scent smelled when freshly sprayed on your skin.  The middle note or heart note, is the main body of the perfume.  The heart and base note work together to bring depth to the perfume.  "A perfume is a picture painted in smells and has notes and tones like music and art." Before we're able to create that masterpiece; we must first learn the foundation. 
The Foundation
PerfumersWorld was founded by Stephen Dowthwaite, trained perfumer, cosmetic chemist and instructor. Stephen co-wrote the program The Perfumer's Workbook, which led to the first and perhaps only systematic method of odor and perfume description.  With an accomplished career and thousands of perfumery and aromatherapy formulations under his belt; Stephen wanted to share his knowledge with a wider audience. Hence the birth of PerfumersWorld.  PerfumersWorld is an all in one resource for the creative perfumer. PerfumersWorld provides seamless support for those looking to create their own perfume ranging from essential oils, training kits, workshops and education through their perfumery school.
There Are No Limits
Depending on how far you want to go; there are no limits.  PerfumersWorld offers different learning structures for the creative perfumer. There's courses offered online for those who like to learn independently. There's also in class training and workshops if you like the in class environment.  The workshops are intense as it touches upon everything you need to know  about perfume creation, commercial perfumery, lifestyle and spa products, condensed in 2-3 days.  
For those who are interested and curious, there's an option to try out the free 10 unit course. This course is perfect for me as you can go at your own pace. So, far I've enjoyed this course as it's easy to follow along. There's an abundance of information on perfume history, essential oils, aromatherapy information and safety information on handling the materials.  I've been completing an average of one to two units at night after the kids are asleep.  Once you've completed one unit, there's a review and practical exercise.  
Hands on Learning
The practical exercise is very fun as it takes you through various stages of creating perfume.  You can use the essential oils you have or you can start with the Perfumery Training Kit.  The Perfumery Training Kit is based on PerfumersWorld copyrighted system known as the ABC's of Perfumery.  It's kept simple so newbies can learn efficiently and still have fun in the process.  Everything you need to get started is at your fingertips.  The kit comes with 25 concentrated bases, formulation workbook, mixers, non- alcoholic solvent, droppers, stirrers, smelling strips, dropper tops and two perfume bottles for the final master pieces.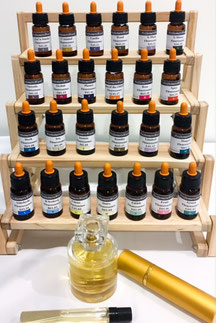 Here's a picture of my set up.  You can go to YouTube and see how you can make your own display shelf.  
With the ABC system, it's easy to just arrange everything alphabetically to avoid confusion.  I found having a shelf made it easier to grab, arrange and start creating.  At first, I was overwhelmed, not knowing where to start as there's so many options.  I then referred to the workbook from the Perfumery Training Kit and got some formula suggestions and went from there.
For the serious student, there's the choice to upgrade to Student's Raw Materials Training Kit.  This kit is used in the senior and professional courses.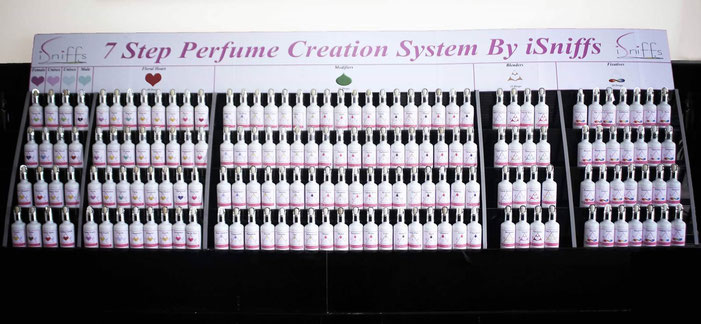 Formula XX-XY
My first creation was inspired by my husband's cologne collection.  His collection, was hand picked by yours truly.  I purchased his colognes based off scents I wanted to wear.  I loved the smell of tobacco, tar, caramel and vanilla on a man.  My first creation named Formula XX-XY, is a combination of a man's cologne and a seductive woman's perfume.  
Choosing My Formula
The formula starts with the heart material which acts as the heart of the fragrance, typically floral notes (e.g. rose) and citrus notes .  I decided to go with wood and citrus as my heart note. I then added dairy and spice as my modifier to add dimension to the scent.  Followed by muguet as the blenders which rounds out and harmonizes.  And for the completion, I chose vanilla and musk as the final material used to complete the formula.  
I was surprised to see the final result was much milder than anticipated.  I went back in to modify the formula and added jasmine to give it a floral kick.  It wasn't perfect, but the right starting place.  I had to put it away overnight and pull it back out to re-evaluate. The verdict, it smelled like a man's deodorant soap.  I just have to keep fine tuning.  The beauty of this experience is I have everything I need to keep learning, practicing and creating.  I am that much closer to creating my "perfect" perfume.
* I received the Perfumery Training Kit in exchange for writing a review on this blog.  However, all thoughts and opinions expressed on this blog post are 100% mine.