Say Bye Bye to Bad Hair Days
Do you ever feel like you have more bad hair days in the summertime than any other season? Do you notice your hair feeling dry, brittle and frizzy from the hot temperature outside? What are some proactive things you can do this summer to keep your hair healthy?
As a hair stylist, I like to share tips with others on how they can achieve good hair days. Here are 10 tips to maintain healthy hair during the hot summer days.
1. Trim the Ends
As tempting as it can be to skip your hair appointment for that BBQ or pool party, don't forget your hair appointment.   Getting a trim to remove split ends is a must for maintaining your tress.  Once your hair has split, it continues to do so until it is cut.   
Recommend:  A minimum of half an inch off every 6-8 weeks  will ensure healthy growing hair.  
2. Use  Salon Moisturizing Shampoo/ Conditioner
Go ahead and pamper yourself,  invest in salon quality shampoo and conditioner.  Why?  Salon shampoos and conditioners have higher quality ingredients that are gentler on your hair and do not strip hair color.   The ingredients are made with a higher concentration; you end up using less per wash.    
Recommend:  Pureology Hydrate Shampoo and Conditioner
Pureology Hydrate Shampoo and Conditioner is vegan, sulphate free and made from natural plant extracts.  It provides a gentle cleanse, nourishes the hair and provides vibrant color and shine.
3. Hair Masks
Deep condition your hair with a hair mask once a week.  Hair masks are the heavy hitter when it comes to hair care products.  It provides additional nourishment, replenishes moisture and shine for your fried strands.
Recommend:  Redken All Soft Heavy Cream Super Treatment Mask
This mask is perfect in the summertime as it provides moisture, controls frizz for dry and brittle hair. 
4. Leave In Conditioners
Don't skip the leave in conditioners as this will protect your hair from sunlight exposure and retain moisture.
Recommend: Pravana- Nevo Intense Therapy Leave-In Treatment
This is a bang for your buck conditioner as it is an all in one.  Not only does it detangle but it hydrates, prevents frizziness and lessens the effects of chlorine.
5. Essential Oils
External weather conditions, mechanical tool usage and chemical treatments tend to leave our hair depleted from natural oils needed to maintain healthy and shiny hair.  To repair the damage, adding essential oils back to the hair is very important. 
Recommend:  Redken Diamond Oil Glow Dry
Redken's Diamond Oil is very light weight and helps speed up the blow dry process.  It adds a nice shine and delivers a nice smell to the hair. 
6.  Chlorine Protection
If you know you're headed to the pool, put a conditioner in your hair prior to leaping in.  The conditioner will act as a barrier against harmful chlorine.  Post swimming; thoroughly cleanse your hair to assure all the chlorine is rinsed off.
Recommend:  Malibu C Swimmers
Malibu C Swimmers removes Chlorine from hair and helps removes "swimmers green hair".
Hot Tools
If you're unable to step aside from the hot tools; here are some essential tips on how to maintain healthy hair. 
7. Heat Protectant Product
Prior to using your thermal styling tool, use a heat protectant product.  It works as a shield by protecting your hair from being fried and depleted of its natural proteins and oils. 
Recommend:  12 Benefits
It's in the name, 12 Benefits does it all: prevents flat iron damage,  protects from blow drier damage,protects against chlorine, wind and sun damage, seals hair color, smooths, moisturize dry hair, repair damage, prevents split ends, adds shine, improve texture and manageability and keeps hair youthful.
8. Use the Nozzle On Your Blow Dryer
After the shower, detangle with a leave in conditioner, apply essential oil and heat protectant to toweled dry hair.  Don't forget to use the nozzle for the dryer. The nozzle allows you to concentrate the direction of the air flow and helps you work smarter, not harder.  Remember to use the cool shot button on the dryer as this will help smooth out the hair cuticle and provide a nice shine to the hair.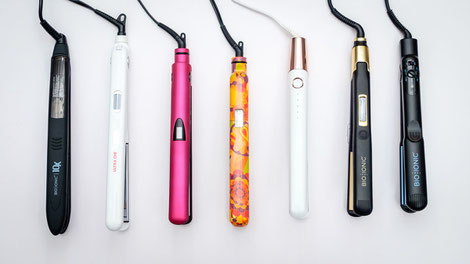 9. Flat Iron
You want to make sure you're using the right flat iron for your hair type.  An ideal flat iron is one with temperature control settings, as heat plays an important part in the health of your hair.  You want to find one that will straighten your hair at the lowest setting with the fewest number of passes.  If you're shopping for a flat iron, don't base your decision on color and size.  Luckily for us, Reviews.com conducted research on flat irons and narrowed down the top 3 flat irons.  "We started our search by compiling 132 flat irons from popular beauty websites like Sephora and Ulta, the hair-focused online retailer Folica, and the omnipresent Amazon.com. Then we dug into the details".
Head over to Reviews.com to see the results of their top 3 picks:  http://www.reviews.com/flat-iron/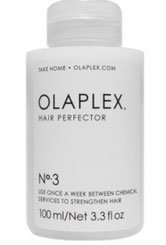 Salon Services for Chemical Treatment
 10. Olaplex
Getting a professional salon treatment is crucial for repairing chemically distressed hair.  By now, you've probably heard of Olaplex.
In a nutshell, without getting into the complexities and chemistry... Olaplex is insurance for your hair.  It rebuilds the structure of the hair from the inside out.  When we highlight, color, or use thermal styling on our hair, we're breaking the disulfide bonds in our hair.  It is a 3 step professional salon system.  Olaplex No.1 & 2 are done at the salon by a trained hair stylist and the Olaplex  No.3 is an at home product.
Olaplex No.3 is not a conditioner, but a treatment to repair the integrity of your hair.  It is recommended to use once a week, on damp hair at least for 10 minutes , before washing.