This week for the Community Centered segment, I wanted to take a closer look at a company that's been generating buzz in the beauty and skin care industry.  In fact, Oprah is talking about it… and if she's talking about it then I want to know why.  
If you've been up late at night with insomnia, then chances are you've seen the Proactiv infomercials featuring endorsements from celebrities including Jessica Simpson and Katy Perry.  Proactiv was the first brand launched by Dr. Rodan + Dr. Fields; two Stanford trained dermatologists who wanted to give healthy glowing skin to people suffering with acne.  With the success of their business, they sold Proactiv to focus exclusively on their upper scale skincare line, Rodan+Fields.  Rodan+Fields offer a multitude of options from sensitive skin to anti-aging for consumers across all ages.
I met up with Kristal Wong, a skin activist and an Executive Consultant at Rodan+Fields to get the inside scoop on their skin care lines.
D& D:  How did you begin with R+F?
KW: With 3 pregnancies, the stresses of being a busy full-time working mom was starting to take a toll on my skin. I noticed my pores getting bigger, dark circles under my eye and sunspots becoming more prevalent, and overall skin becoming more dull and dry. After using Rodan and Fields' Multi-Functional Eye Cream, I loved how my eyes felt throughout the day - never dry or irritated. I tend to have dry skin and this eye cream keeps my eye area moisturized. It's made the overall eye area brighter, less puffy, and lines becoming less prevalent. I've tried numerous eye creams from other premium skincare brands, and Rodan+Fields' is by far my all-time favorite.
D& D:  Why did you become a consultant?
KW: After seeing before & after pictures of other customers with real results, I was convinced. I knew the products had great potential to really help change skin, lives, and give people hope. I wanted in. This was my calling to reach out and help others. The company encourages everyone to take before and after pictures. If after 60 days, you don't see results. You can return product for full refund. Even with this great policy, Rodan+Fields has a low ~2% return rate. This further convinced me that the products were achieving real results!
Aside from the desire to help others, I saw this as an incredible opportunity to own my own business without expensive overhead, extensive capital requirements, or expensive start-up costs like other franchises. I loved the lifestyle flexibility - being able to share the products with other women and men wherever and whenever I wanted - both in-person and online, and at kids' classes, evenings, weekends. Really, the sky's the limit.
D&D:  Can you give us a brief overview of the R+F lines?
K&W:  There are four distinct product lines. REDEFINE is an anti-aging line comprised of a light exfoliating cleansing clay mask, pore minimizing toner, daytime treatment cream and overnight moisturizing cream.  REVERSE is a regimen for treatment of sunspot, discoloration and dullness. UNBLEMISH, a combination of cosmetic and OTC ingredients, targets the elimination of acne and post acne marks.  SOOTHE, is a regimen for sensitive skin, it is Pepto-Bismol for the skin.  It has RFp3 technology to literally block the inflammation process and repair the skin's lipid barrier.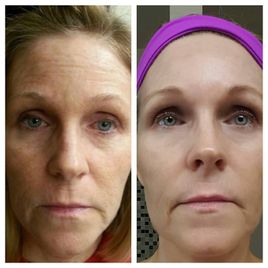 Example of results after using REDEFINE
 Another favorite is the Macro Exfoliater, also known as the MacroE, is a tool that is loved by beauty editors.  This handheld exfoliation device sweeps away dead skin cells- up to 5 million in just 5 minutes.
D&D:  What are your recommendations for someone dealing with eczema?
KW:  For eczema, I would recommend using the SOOTHE line, it is the most gentle and versatile regimen.  SOOTHE is alcohol, soap, color and fragrance free, effective for both adults and children.  It works amazingly well for redness, psoriasis, rosacea and even gentle for kids and babies
D&D:  What do you recommend to someone who is interested in trying R+F but doesn't want to take the plunge into purchasing everything?
KW: It really depends on the person's skincare concerns or issues. The easiest approach would be to take my online solution tool and get initial recommendations based on their primary & secondary concerns. Then contact me for a free personal consultation to better refine their selection. With the 60 day guarantee, one can easily return products for a full refund if they don't see results. It's like getting 60 days worth of free samples! If someone doesn't have any concerns and wants to try only 1 product - I would recommend starting with the Multi-function Eye Cream to get a sense of how amazing the products are.
For additional information on Rodan+Fields products, contact Kristal Wong at:
https://www.instagram.com/givingskinhope/
Get personal skincare recommendation: https://kristalwong.myrandf.com/Pages/OurProducts/GetAdvice
Shop: https://kristalwong.myrandf.com
Business sign-up: https://kristalwong.myrandf.biz
Right now Kristal is offering 20% off Rodan + Fields products to anyone who mentions they saw this on Diamonds & Dames Beauty.  This is just in time for Mother's Day. That's an extra 10% off preferred customer pricing.